Born: New York
Lives: London & Dorset
Education: Cornell University, USA
"UNDER THE SKYLIGHT" at the Brian Sinfield Gallery:
SEPTEMBER 16th – October 7th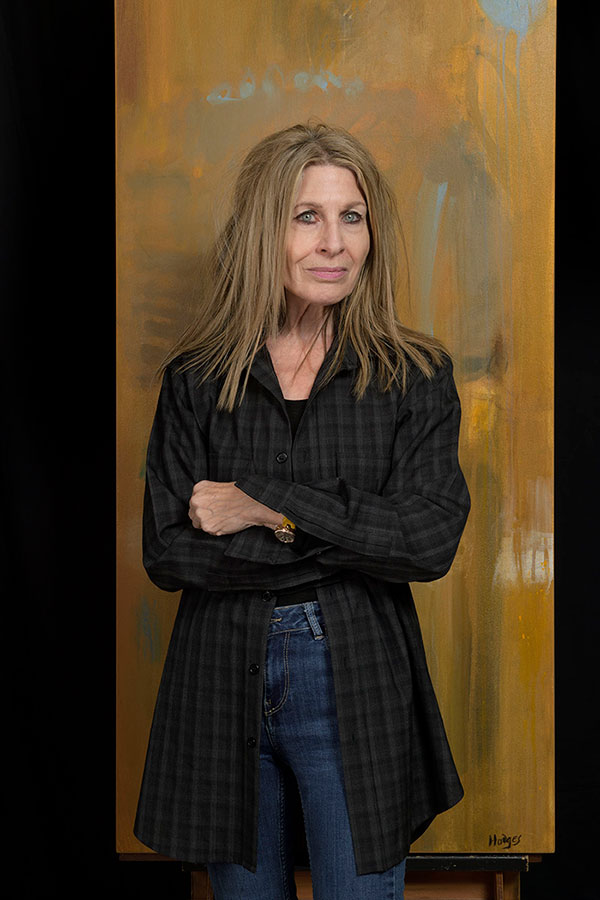 "Trying to describe Felice Hodges' wonderful paintings with accuracy can be difficult because – like the truest art – they transcend the harsh rigidities and conformities of language. She makes paintings that may first appear wholly abstract and gestural in expression but, on continued looking, are generally rooted in a specific place or moment which their titles and forms gradually reveal. They hover between abstraction and some mysterious, transformed poetic reality that the viewer becomes immediately caught up in and a part of, and the viewer becomes part of an interaction or dialogue with the picture itself. The evocative mood and atmosphere of these paintings is often suggested by subtle, ravishing harmonies of colour. Tones and colours are laid next to, or over each other, to create highly original and unexpected chromatic combinations which are also intensely beautiful. These have a direct effect on the viewer's emotions.
Felice trained as a musician and continues her musical interests and in this her work is reminiscent of the tone poems of Claude Debussy and Maurice Ravel. Such music is ethereal and free flowing, intangible, yet contained within a highly effective structure. Felice's paintings have a similar enigmatic character.
The surface of these canvases is highly, richly complex, also like a musical composition. Felice contrasts the different textures and effects that derive from working paint with stiff and soft brushwork, bold gestures set against more contained ones. She combines acrylics with other media, and sometimes the paintings contain collaged elements.
I am reminded of another painter, James McNeil Whistler who…..supressed narrative in favour of evoking in his viewers delicate yet penetrating emotional states.
Felice's expressive approach to painting and perception is one that enriches all who see it".
Robert Upstone, former head of British Art, Tate Modern
Felice works rapidly, constantly sensitive to surface and touch, her process a fine balance between pre-meditation and spontaneity… creating these lyrical, atmospheric abstractions.
Dr Ian Massey, Art Historian and Author

Motcomb Street Gallery, London; group show
The Stables, Orleans House Gallery, Twickenham; solo show 2000 Orleans House Gallery, group show 'A River Runs Through It', 2002
Richmond Town Hall, Richmond; solo show, 2002
Babington House, Somerset; group show
Cricket Fine Art, London; various group shows
Alan Kluckow Fine Art, Sunningdale; group show
Art Fairs including 'Affordable Art' in Bristol, Bath, London; and 'London Art Fair' at Business Design Centre, and Royal College of Art
'Open Studios': three solo shows for Dorset Visual Arts since 2009
Ten Castle Street, Cranborne, Dorset, permanent in-house display
Cricket Fine Art, SOLO SHOW "IMAGINED SPACES", London, October 2017
The Art Stable, CHRISTMAS SHOW, Dorset, 2017
Battersea Private Members' Club, Battersea, London 2017
The Art Stable, Mixed group show, May 26th – June 2018
The Art Stable, Mixed group Christmas show, December 2018
McAllister Thomas Fine Art, Spring Show, 2019
Gallery at Home, solo show SYNESTHESIA, July 12th – August 26th 2019
Cricket Fine Art, "INNER SANCTUM" solo show October/November 2019
McAllister Thomas Fine Art, solo show TWENTY RECENT WORKS October 5th -17th 2020
The Art Stable, solo show PALIMPSEST, October 17th – November 14th 2020
Cricket Fine Art, solo show "Out of Left Field", October 19th – November 6th 2021
Gallery At Home, Usk, Wales, February 2022
Lemon Street Gallery, Withiel, Cornwall; Spring Exhibition, March 26th – June 25th 2022
Lemon Street Gallery, Rock, Cornwall; "Scene Change", May 28th – August 15th
Brian Sinfield Gallery, Burford; Summer Show July 30th – September 3rd.
Lemon Street Gallery, Rock, Cornwall; "Scene Change Act II", Autumn 2022
Eastwood Fine Art, Longbridge, Hampshire, Winter Show December 2022
Brian Sinfield, Winter Show, January 2023
Lemon Street Gallery, solo show "Unheard Music", December 17th-January 14th 2023
London Art Fair, Lemon Street Gallery, January 17th 2023
Brian Sinfield, Spring Show 2023
Lemon Street Gallery, Spring Show 2023
McAllister Thomas Fine Art, SOLO SHOW "Cadence", March 25th – April 29th, 2023
Galleries / Public Collections
Cricket Fine Art, London and Hungerford, Berkshire
The Art Stable, Child Okeford, Dorset
Gallery at Home, Usk, Wales
McAllister Thomas Fine Art, Godalming, Surrey
The Fine Arts Gallery, Wimborne
Justine Mehlman Art & Antiques, Washington DC
Pieroni Contemporary Art, Richmond, Surrey
Alan Kluckow Fine Art, Sunningdale, Berkshire
Ten Castle Street, Cranborne, Dorset
Lemon Street Gallery, Truro, Cornwall
Richmond Borough Art Collection, Orleans House Gallery
Twenty Grosvenor Square, London
Withiel Sculpture Garden, Truro, Cornwall
Brian Sinfield Gallery, Burford, Cotswolds
Eastwood Fine Art, Longstock, Stockbridge, Hampshire
Augusta & Co., Mayfair, London